Instructions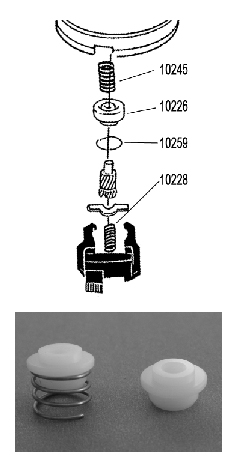 Remove handle related parts from the reel. Then remove the star wheel. Next, remove the right sideplate and the brakeplate from the frame.
Separate the sideplate from the brakeplate by unscrewing the two brakeplate screws. Remove wire-clip #10259 and the existing plastic bushing #10226 along with supporting spring #10245 underneath.  
Drop the replacing spring with the larger diameter into the housing. Then place the custom plastic bushing in the upright position over the spring. Make sure the longer side of the bushing is looking downward just like in the picture. Place the #10259 wire back in position over the plastic bushing.
  
 Next, replace the spring #10228. It is simply placed in the tight area of the clutch button but it is just snagged in there and not been tightened or screwed down. I would recommend using a very small screw driver for removing.
Subject to the production year, the plastic bushing number #10226 might be #13462. You can treat them in the same manner.
Existing parts cannot be combined with this custom package.
This package can be used for mechanisms like 2600CI with the Thumbar although ##10228 is not installed on these reels.
Compatible Ambassadeur models: 1500C, 2500C, 2501C, 2600CI and possibly others.
Make sure to lubricate around the newly placed plastic bushing and also where pinion pick #10229 meets the push button once installation is done.
Simon Shimomura
Fishy Business, Inc.
Result may differ from the reel to reel subject to its current condition. Sometime the reel may have some other issues that may have contributed to the heavy clutch issue.